Read the text «Sport and games». (Прочитай текст «Спорт и игры»).
Sport is important for us. There are a lot of interesting sports and games. I know basketball, volleyball, football, tennis, swimming, skating and skiing. I like swimming and skiing very much. I swim in the river in summer and ski in the forest in winter. I like to play football most of all. I usually play football with my friends. Playing sport games is so funny!
Сhoose the right sentence without mistakes. (Выбери правильное предложение без ошибок).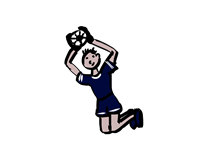 1.
2.
3.
https://pixabay.com/en/goalkeeper-chelsey-football-183056/